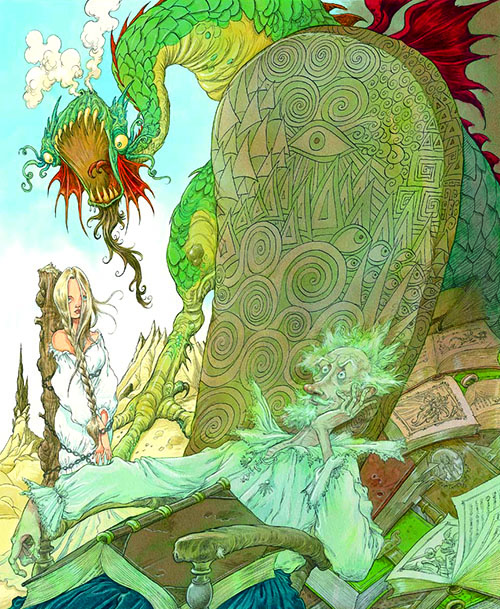 Author of over a hundred books, elected Waterstones Children's Laureate and Officer of the Order of the British Empire in recognition of his illustration and charity work, winner of multiple awards, among which the unique Kate Greenaway Medal (which he won 3 times), Chris Riddel will be a guest at Lucca Comics & Games 2022 with an exhibition to celebrate his extraordinary career as an illustrator and author.
Riddel is one of the greatest British illustrators and authors of this century. In addition to being a prolific author for children and teenagers, he's also a sharp political cartoonist, first for "The Economist" and then for "The Observer".
He's a sharp-witted and cultured character, always on the front line to stand for the importance of libraries in cities, and also an extremely talented illustrator: he can create worlds and characters capable of attracting readers of all ages thanks to his fine and detailed style.
Among many, Riddel is the author of the "Ottoline and the Yellow Cat" and "Agata De Gotici" book series, which are now beloved classics, in addition to single works such as "100 Hugs".
He made more than 50 books in collaboration with Paul Stewart, including the " The Blobheads" and "The Edge Chronicles" book series. In addition, he boasts several books and collaborations with Neil Gaiman, Kathryn Cave, Philip Ridley, Brian Patten and Francesca Gibbons; he is also the author of the illustrations for the new and sumptuous edition of "The Tales of Beedle the Bard" by J.K. Rowling.
More than a hundred works and several sketchbooks by Riddel will be displayed in the halls of Palazzo Ducale: from iconic works such as "Ottoline and the Yellow Cat" and "Agata De Gotici" to great classics such as "Alice's Adventures in Wonderland". From the upcoming, original works for the illustrated edition of "The Little Prince" by Antoine de Saint-Exupéry to the covers for "The Observer". You will also get the chance to admire studies never seen before and some of his sketchbooks.
Exhibition curated by Roberto Irace.
Where: Palazzo Ducale – Lucca
When: from 15th October to 1st November