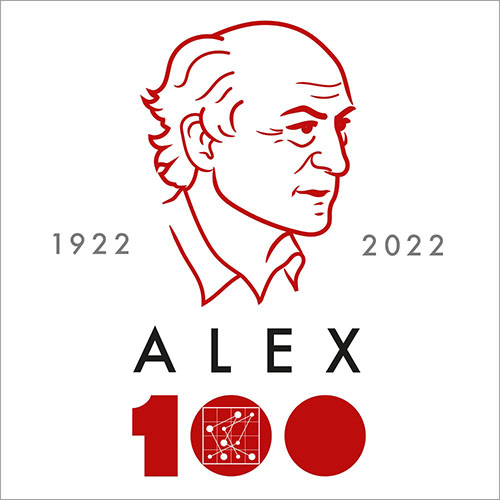 Born in 1922 in Czechoslovakia, Alex Randolph is the first full-time board games author; he has published over 150 of them. Son of artists and polyglot, he served in the counterintelligence of the American army during World War II creating training games. He then attended the intellectual circles of Vienna and Rome.
After publishing a critically well received novel, he quit his creative advertising job in Boston and started publishing board games: his first success was "TwixT", followed by many others.
He lived in Rome for many years, then in Japan and has settled in Venice since 1972. He started by releasing abstract games, often inspired by poker, chess and traditional games he discovered on his journeys. He then found out about German-style family games and adopted evocative settings, like in "Sagaland", where you have to explore a forest to find the most famous objects from fairy tales; it sold over three million copies. Venice is recurring in "Inkognito", a game full of spies and intrigues set at Carnival, and in "Venice Collection", where you play with its typical canals. He also published children's books.
He died on 27th April 2002. His gravestone simply honours him as "Inventeur du TwixT".
100 years after his birth (1922-2022) Lucca Comics & Games celebrates one of the greatest creative talents of the 20th century: the career, the games and the message of the first "game author" recognised in history will be celebrated through a full programme of initiatives which will involve many Masters of the Italian game.
The highlight of the celebrations will be a large exhibition set up in the halls of Palazzo Ducale, which will hold an exhibit dedicated to a game author for the first time ever.
The initiative is made in collaboration with the Deutsches Spielarchiv/Museen der Stadt in Nuremberg and with the active participation of Randolph's key colleagues such as Leo Colovini and Dario De Toffoli from Studio Giochi, and Gianluigi Pescolderung from Studio Tapiro.
Finally, the celebrations will be enriched by a documentary presented by Andrea Angiolino which will be available on the RaiPlay platform.
Where: Palazzo Ducale – Lucca
When: From 15th October to 1st November