We'll meet again in 2023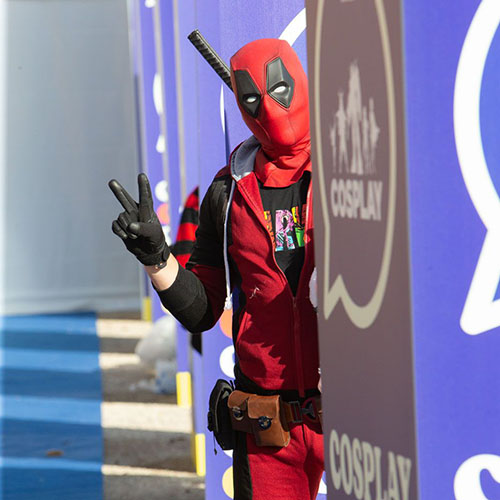 LCG
On 1st November at 7 PM, the most emotional edition of Lucca Comics & Games came to an end. It marked the return to a new normality, bringing hundreds of thousands of fans of all ages back to the city, a joyous community which enlivened the streets and squares of the city for a collective celebration that has now existed for 56 years.
This edition broke the ticketing record of the whole festival, which was confirmed as the most important in the West, with 319,926 tickets sold for an edition that extended beyond the city boundaries, reaching 120 Campfires all over Italy which organised over 450 events in 15 days - on RayPlay with the section dedicated to Lucca Comics & Games - and had a great success on the web with the digital festival broadcast on Twitch.
Hope was the theme of the recently concluded edition, portrayed in the amazing poster created by one of the greatest exponents of Fantasy Art, Canadian Ted Smith. Lucca Comics & Games once again proved to be an event full of imagination and of hope that brought fans of comics, animation, video games, board games, cinema, TV series, illustration and fantasy to the Tuscan town from all over the world, confirming the festival's strong appeal on a national and international level.
"This was a truly special and unique edition, our vision has come true", says Emanuele Vietina, director of Lucca Comics & Games, "not only thanks to the great previews, the participation of many Italian and foreign authors and artists, the various new publications or the rich cultural programme, but above all thanks to the magic atmosphere we felt, the faces of new-found friends and of those we just met in the streets of Lucca. The festival was the reflection of a fantasy world which, however, does really exist, it's contemporary and is home to the best fan communities any festival could hope for."
A five-day event where major international premiers took place with special guests, including a master like Tim Burton, praised by the people of Lucca with whom he has shared his imagery during the European premiere of the TV series Wednesday. But also the highly anticipated premiere of One Piece Film: RED with the presence of director Gorō Taniguchi, along with many initiatives involving fans; and let's not forget the world premiere of four episodes of the animated series Dragonero, based on the successful comic book created by Luca Enoch and Stefano Vietti, an international co-production by Sergio Bonelli Editore in collaboration with Rai Kids, Power Kids and NexusTV.

… and then all the other thousands of events, meetings and news! All we can do now is wait for you at Lucca Comics & Games 2023: From 1st to 5th November!