Nintendo's Monographic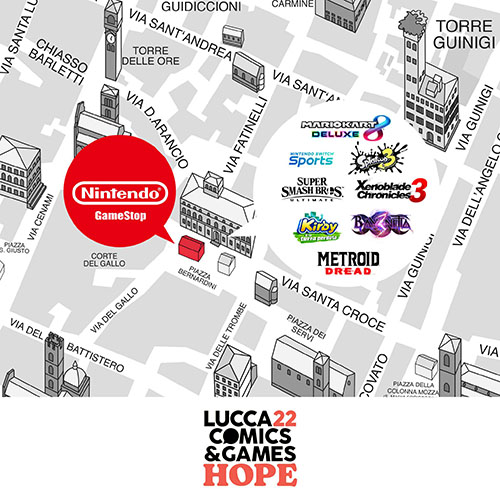 Videogames
With a lot of news, Nintendo is waiting for all the fans at its official pavilion located in piazza Bernardini, in the centre of Lucca.
There, you'll get the chance to try exclusive Nintendo experiences, take part in specific activities and experience some surprises.
Among the new titles, here are the most important ones in brief:
Looking forward to discovering the third wave of new circuits, "Mario Kart 8 Deluxe" is waiting for youwith all its excitement and breath-taking routes in the most famous cities in the world. For all "pilots" who want to try a driving challenge, a frenetic mini-tournament will be organised.
Team battles with all its colourful entertainment and strategy: come and discover "Splatoon 3", the title that has become a real phenomenon in Japan, with 3.5 million of copies sold with the release.
The witch of Umbra comes back with "Bayonetta 3": Nintendo invites you to try out all its action on the launch weekend in a national preview.
But it's not over! In the monographic pavilion you will also find a GameStop shop where it will be possible to pre-order "Pokémon Scarlet" and "Pokémon Violet" at a really convenient price, as well as all the offers that GameStop has in store for you, only at Lucca Comics & Games.