Lucca Cosplay Academy Live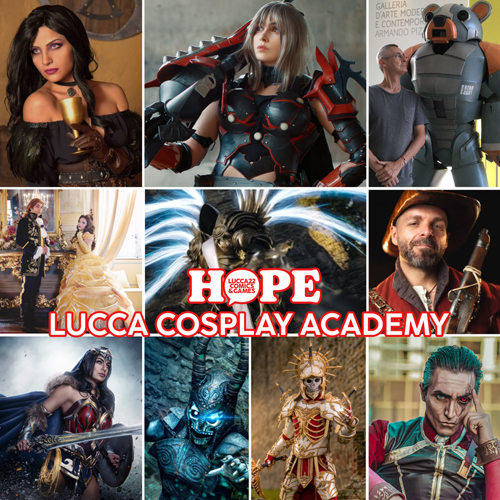 Cosplay
For those who want to start creating their Cosplays but have no idea where to start from, here comes the Lucca Cosplay Academy, a real Workshop completely free of charge, born from the collaboration between the cosmaker Gaia Giselle and the Lucca Comics & Games' Cosplay sector, which acts like a point of reference in the dissemination of techniques and experiences in the world of Italian cosplay thanks to partnerships with professional cosplayers, make-up artists and cosmakers.
Here's the programme of activities, free of charge, that will take place during Lucca Comics & Games at the Cappella Guinigi, in the complex ofSan Francesco.
Friday 28th October:
10:00 AM – 10:45 AM Gaia Giselle – From design to reality: how to create a cosplay
10:45 AM – 11:30 AM Mogu Cosplay – Cosplay Contests: all you need to know!
Saturday 29th October:
1:30 PM – 2:15 PM Franz Triforce Cosplay – Introduction to the use of 3D Printing and Airbrush Painting in Cosplay
2:20 PM – 3:05 PM Ninety Cosplay – Creating a cosplay with FOAM: the guide from A to Z
3:10 PM – 4:00 PM Ahdras – Bas-relief on Leather for Beginners
Sunday 30th October:
1:30 PM – 2:15 PM Gae Prizmatec – How to make Thanos (and other armours) without breaking the bank
2:20 PM – 3:05 PM Misa & Sho Cosplay – Let's prepare cosplays for a contest and learn to make a corset!
3:10 PM – 4:00 PM Manu Mindfreak – "FREAKSHOP": basic SFX techniques and live demonstration of prosthetic applications and special effects
Monday 31st October:
3 PM – 4 PM MAC COSMETICS presents make-up on MEL from Arcane in partnership with RIOT Games
Tuesday 1st November:
3 PM – 4 PM Enrico Sequi and MAXHVLABS – ARMOUR MAKING: between thermoplastics and innovative armour construction techniques
…and we'll also talk about Photography and Cosplay.
Don't miss it