Exploring the Communityverse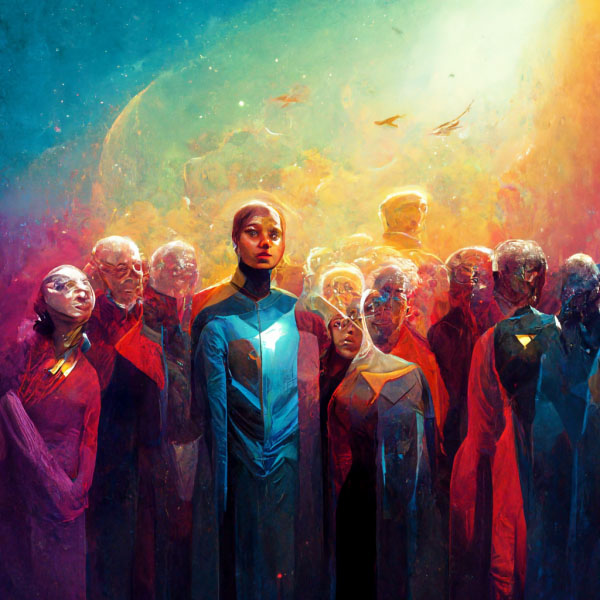 Communityverse
To talk about the Communityverse we will give the floor to the experts, the early pioneers, such as journalist Emilio Cozzi who will moderate the debate "Cryptoskeptics Vs Cryptosupporters", an event in which supporters of these new technologies will confront those who don't believe in the reality they represent.
Naturally, given the nature of the festival, art and creativity will be one of the topics, together with broader matters like technical, environmental, ethical and social issues. Among the meetings guests: artist and illustrator Lorenzo 'LRNZ' Ceccotti, Lecturer in Computer Science at the University of Pisa Fabio Gadducci, Head of Business Development of Young Platform (the first Italian Crypto Exchange) Edoardo Degli Innocenti, Founder and CEO of Art Rights Andrea Concas, Blockchain Expert and founder of the blog Blockchain Cafè Marco Crotta,Business Developer for Somnium Space and founder of Sewer Nation, one of the first DAOs (Decentralized Autonomous Organization) in Italy Francesco Vincenti,President of ObservatoryZed and Partner & Community Advisor of Creation Dose Marco Dodaro, Co-Founders of AnotheReality Lorenzo Cappannari and Matteo Favarelli,CEO and Managing Director of 101% David Gallo,Project Manager at the European Network of Comics Representatives and Entrepreneurs Michele Barghini,President of the Florence Toy Museum Francesco Ristori,Co-Founder & CEO of KNOBS Vincenzo Rana, CEO of ReevoMSP Emanuele Briganti,populisers and blockchain bloggers Lorenzo Niccolai and Tiziano Tridico,Creative Director for DVRS Matteo Marzanti andHead of Virtual Economies for DVRS Niccolò Bardoscia.
INDIRE, the National Institute for Documentation, Innovation and Educational Research, and H-FARM, the main educational innovation hub in Europe, will organize a "Virtual Debate" to discuss and understand how education will evolve in the Metaverse age. This will take place within an experimental meeting with two schools that will confront each other on the topic in a virtual class in the Metaverse, together with in-presence lecturers and remote learning professors. Director of the iSearch group (Information Search, Ecological and Active Learning Research with Children) and of the Max Planck Institute for Human Development of Berlin Azzurra Ruggeri will take part in the event.
The fashion industry is certainly one of the most attentive potential users in this world, hence the panel "Metaverse: HHH (Hype, HOPE, Hell)" with Marco Ruffa, Digital Transformation Director for Pinko and Head of Luxury for Luxochain, and other pioneers who will describe their experience between the world of fashion and the Metaverse, talking about one of the sectors that will, in fact, determine the expansion of this technology.
Founder & Producer of Cyberspline Games Laura Cresciullo, Chief Revenue Officer of Niftify (the first online platform for the creation of NFT e-commerce websites) and co-creator of the NFT-Store project Michal Geci,and founder & CEO of the Coderblock's Metaverse Danilo Costa will be among the international guests enlivening the panels.
Fabio Viola, Metaverse and Game Designer, will describe the points of contact and differentiation between gaming and metaverse, with all the possible repercussions on the territory.

Finally, an overview related to legal and privacy aspects will also be given, curated by lawyers Massimo Simbula and Ivan Tizzanini, who will outline an overview of a context where such a fast and innovative technology faces a legal system that is inadequate in some respects.