Dampyr, the film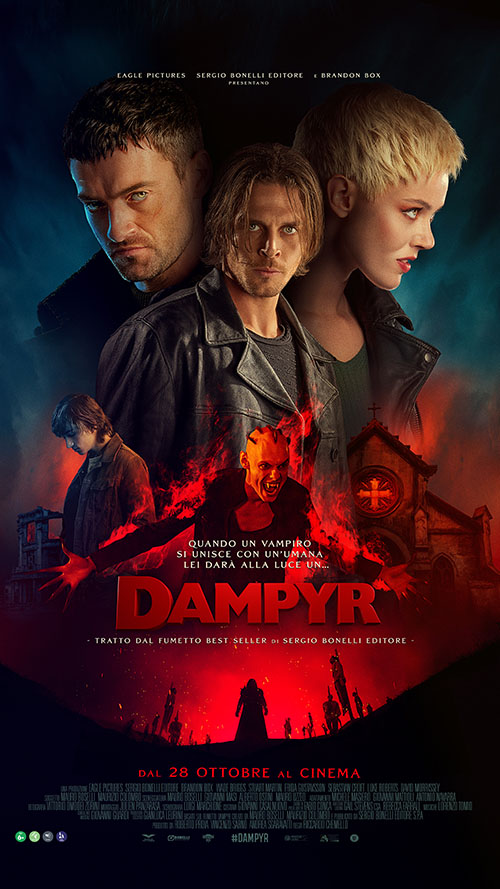 Comics
Movie
The trailer and poster for the fantasy action film "Dampyr" were revealed today: based on the homonymous cult comic, it's Riccardo Chemello's debut film, a co-production involving Eagle Pictures, Brandon Box and Sergio Bonelli Editore, the renowned comics publishing house with Bonelli Entertainment as its production arm.
Distributed by Eagle Pictures, "Dampyr" will be released in Italian cinemas on 28th October, at the same time as the world premiere with the cast, which will be held at Lucca Comics & Games. The film will introduce the opening night of the well-known community event dedicated to the world of entertainment.
"Dampyr", shot entirely in English, is an impressive production with a budget of over 15 million dollars; this first film from the Bonelli Cinematic Universe includes the masters of the Italian cinema industry behind the scenes. Based on the comics series made by Mauro Boselli and Maurizio Colombo, the film has a completely international cast, in which Dampyr is interpreted by Wade Briggs (Still Star Crossed, Please Like Me, "Foundation", "His Dark Materials").
The film tells about the genesis of the character, published by Sergio Bonelli Editore in 2000, in the first two of the 300 albums which make up the comic book series, sold on newsstands each month. This is the first Italian franchise to be released entirely in English.
"Dampyr" is set during the Balkan Wars, in the early 90s, and follows the adventures of Harlan. Haunted by horrible nightmares, Harlan makes ends meet by pretending to be a Dampyr (according to Slavic mythology, a half-human and half-vampire being) capable of freeing villages from what the superstitious villagers naively believe to be terrible curses related to the vampire world. But when he gets called by soldiers attacked by blood-thirsty creatures, Harlan finds the truth: he really is a Dampyr! While trying to confront a terrible "Master of the Night", Harlan will have to learn to manage his powers and discover his origins. A renegade female vampire and a soldier seeking revenge will accompany him through his journey…
The film awaits you in Italian cinemas and at Lucca Comics & Games on 28th October. In the meantime, you can watch the official trailer.