Accessible Lucca Comics & Games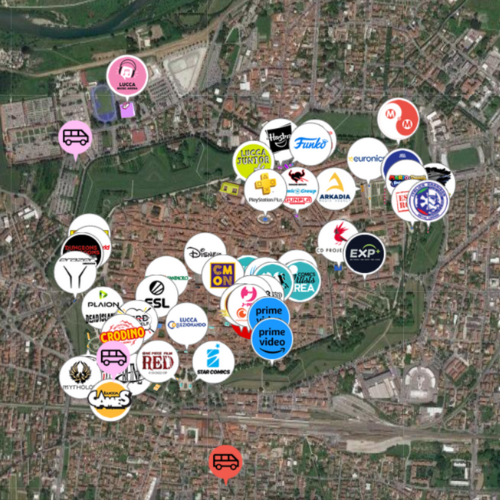 LCG
Lucca is becoming more and more accessible. Here is all useful information to get the most out of your Lucca Experience:
Free tickets for people with disabilities
People with disabilities are entitled to a free ticket that can be collected together with the reduced-price ticket for any accompanying person.
Entrance tickets can be collected at the cashier's desks and Welcome Desks in:
Piazza Ricasoli (train station)
City Walls - Baluardo San Salvatore (Welcome Desk only)
Palazzetto dello Sport - Via delle Tagliate
Polo Fiere
Piazzale Verdi
It will also be possible to benefit from a specific ticket office and Welcome Desk service by the Croce Verde di Lucca – Viale C. Castracani 468/D - via Romana Trav II.
Tickets can be collected during all days of Lucca Comics & Games, from 28th October to 1st November, from 8 AM to 6 PM.
For collection and purchase, documentation proving the disability will be required, regardless of the type or percentage.

Car parks and transport for people with disabilities
The car parks listed below are accessible for free from 6:30 AM to 8 PM, from 28th October to 1st November. All you have to do is show the staff at the entrance the parking card for people with disabilities.
Mazzini underground car park (Via dei Bacchettoni - historic centre) equipped with a lift
Polo Fiere car park, limited parking spaces
Polo Fiere can also be reached by shuttles with the possibility of transporting people with disabilities in a circular service departing from via della Formica (S.Concordio), from 7:30 AM to 9:30 PM.

Support
Luccasenzabarriere will be present - together with volunteers and students from the Istituto Pertini Grafico e Turistico and the ITI Liceo Sportivo - at all ticket offices to give support to people with disabilities.
In addition, thanks to the strong collaboration with Michelotti Orthopaedics, which will provide various aids, the association will ensure that Villa Bottini and the Cappella San Giuseppe Auditorium (in Piazza S.Martino) as well as Piazzale Verdi are accessible, in order to facilitate access to the walls from Cavallerizza and Polo Fiere.